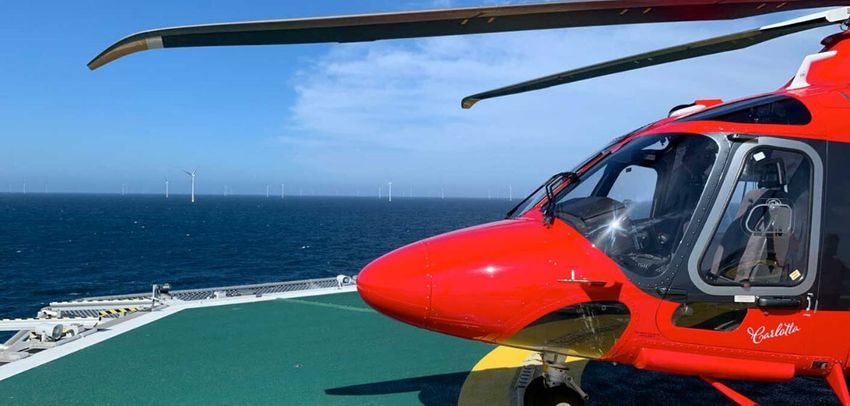 Having grown up for part of my life near one of the world's busiest heliports in Aberdeen, Scotland, I had ample inspiration to dream of becoming a pilot.

At school, unfortunately my careers adviser said that I would never make the grade to become a pilot, which destroyed fledgling ambitions. That was until 2004 when I met the owner of helicopter flying school and realised the dream could actually be realised. While it took a significant amount of dedication and determination, it wasn't difficult to apply myself doing something for which I had a passion.

Getting the first job was the hardest, as it often is, so I became a freelance instructor on the south coast of England. It was great fun and while the wages weren't great, I was doing what I loved and for the first time and I was getting paid to do it, rather than paying for it myself. While working at Fast Helicopters, I attended Helitech and was fortunate to meet with some contacts I had made at Bristow Helicopters. Following this I was invited for an interview and taken on by Bristow, flying offshore workers to oil and gas platforms in one of the world's harshest environments—the northern North Sea. The S92 represented quite a leap in size and technical difficulty compared with the Robinson R22s that I was familiar with.

I spent a very productive and enjoyable four years with Bristow. It was a steep learning curve and I was proud to have made it to this position. I met some great people and had the pleasure of flying out of the Shetland Islands for a couple of years before returning back to Aberdeen. Operating over the North Sea is certainly a challenge. Weather in this region changes in an instant and very often for the worse. You quickly learn to be respectful of mother nature, especially at night in winter, where all you see is an infinite black expanse with oil rigs scattered in the dark lit up like Christmas trees.

Unfortunately, after four years with Bristow Helicopters I was made redundant, as a result of the collapse in the price of oil. While daunting, the situation offered new opportunities. I decided to retrain on the EC135, a brilliant, versatile aircraft with a great reputation. Having completed my type rating, I began searching for a new job—a task that I was only too aware was difficult, to say the least in the helicopter industry. However, with a bit of good fortune, I was invited to Munich, Germany for an interview with HTM Helicopters. They were looking for a new pilot to do hoisting of technical crews to offshore wind turbines. Now this sounded challenging and fun!

Though I was apprehensive at first about moving to a new country with a language I didn't speak, it was one of the best two years in my career so far. Working with a fantastic team, we provided a great service supporting the wind parks from Borkum, Heligoland, Emden and Nordeich. My experience gained from flying over the northern North Sea prepared me well, particularly in winter. This job also brought about a new dimension to crew resource management. Though we were a single pilot operation, we definitely had to have a teamwork attitude and trust in our hoist operator. In very windy and turbulent conditions, hoisting technicians to a wind turbine that has no power and is still moving involves a lot of mutual trust. I placed my trust in the hoist operator to position me safely but close enough to lower the technicians and he had to trust in me to position the aircraft as he wanted it. I was fortunate to work with some great hoist operators and am grateful to them for some of the best flying that I ever had. As a result, I learnt so much about myself, my flying and the importance of teamwork in those two years.

Eventually commuting between Aberdeen and Germany became too difficult and I decided to leave HTM. I returned to the UK and was fortunate to be selected to be part of a small team responsible for helicopter hoist operations for the World's biggest wind park, Hornsea, located about 90 miles off the East coast of Lincolnshire. 178 7-megawatt wind turbines covering an area of 407 square km which is an area bigger than London. This presented a big challenge on all levels.

We are now two years into the operation and have overcome many hurdles to exceed our client's expectations. Although we are a small team, through adaptability, determination and teamwork we have proven ourselves to be a success. I think these skills are fundamental to any person or organisation in aviation, especially the helicopter industry.

When I look back over my career, there have been many ups and down, notably my redundancy. However, this turned out to be a blessing in disguise. As global oil prices continue to fluctuate, my career is more secure in the renewables industry and I now have an enjoyable future ahead. If I was to offer one bit of advice to anyone starting out, it is to be patient and persistent. When one door closes, another always opens. Always follow the dream and don't stop believing, no matter what.

P.S I was quite proud of the moment I flew back to school and landed in an R22 in front of the career advisor. His face was quite a picture.